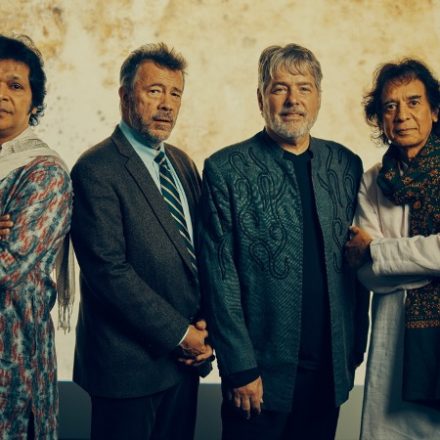 April 21, 2023
"Motion" with Animated Video from New Album "As We Speak" Out Now
---
Photo credit: Jeremy Cowart
"When we are performing on stage, in composing mode or creating mode, we are basically having a conversation," says renowned tabla player, Zakir Hussain, of his bandmates, banjo legend Béla Fleck, the great double bassist Edgar Meyer, and bansuri player Rakesh Chaurasia. "So the music emerges as we speak."   
The quartet is sharing a new animated video for Edgar Meyer's composition "Motion," illustrated and directed by Maya Sassoon.  "I am amazed at how Béla, Rakesh, and Zakir are able to bring this piece to life," says Edgar. "Then again, I've seen them do it before, so I wouldn't expect anything less. And I love how the team of Maya, Joey and Brad were able to find the story in the music and turn it into something visual." The video follows "Owl's Misfortune," written by Fleck.  The quartet will be touring the US in April and May, including May 4 at The Town Hall in New York City.  Tickets are on sale now, with a November US tour to follow. 
As We Speak (May 12, Thirty Tigers), not only showcases their breathtaking abilities as instrumentalists, but underscores the wide range of influences at their command. Across a dozen songs, the quartet glides easily between the cerebral complexity of Indian rhythm and the gut-level groove of a funky bass line, sounding equally at home with the rigors of raga.
The core trio first met when Fleck and Meyer were looking for a third partner for a triple concerto they had been commissioned to write to mark the opening of Nashville's Schermerhorn Symphony Center. They thought of Zakir, who was quite interested in orchestral writing. "We thought we could learn a whole lot from this guy!" says Béla. The result was The Melody of Rhythm (2009), recorded with the Detroit Symphony Orchestra under Leonard Slatkin.
During the Melody of Rhythm tour, the trio's true potential and shared gift for improvisation became apparent.  Adding to that magic is Rakesh Chaurasia, who plays bansuri, an Indian bamboo flute. When the trio was touring India, Hussain — who knew Chaurasia through his uncle, Indian flute legend Pandit Hariprasad Chaursia — invited the younger flautist to sit in, and the chemistry was immediately apparent. "I think we wanted to see if we could do something a little more organic with just a small group," says Meyer. "And to have somebody who plays as beautifully as Rakesh join us really opened it up to a more lyrical and melodic situation." 
"What I think is good about this quartet is that everybody has to stretch in the direction of the other people," adds Fleck. "To me, a collaboration where nobody changes is not a collaboration. It's a mashup. And there's nothing wrong with that. But I like a collaboration where I have to learn a bunch of new things from the other people. And in this case, I'm learning like crazy."
Stream "Motion" here.
Hear "Owl's Misfortune" here.
Pre-order As We Speak here.
Check Edgar's calendar here for all upcoming tour dates.