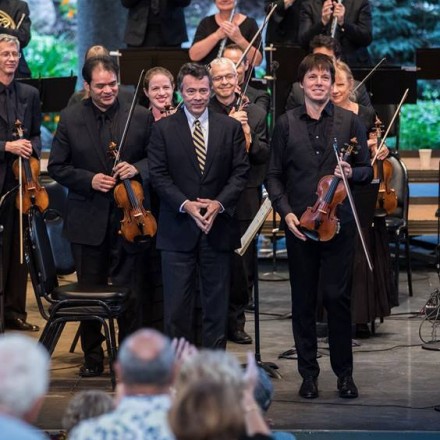 February 27, 2018
Joshua Bell & Academy of St Martin in the Fields tour Edgar's Overture for Violin & Orchestra
---
After receiving its world premiere at the Bravo! Vail Festival last summer, Edgar Meyer's Overture for Violin and Orchestra is taken on the road by Joshua Bell and the Academy of St Martin in the Fields for their 2018 tour of the United States.
Bell and the orchestra bring the piece to California on March 9 in Costa Mesa, March 11 in San Francisco, March 12 in Davis, and March 15 in Northridge. They kick off the East Coast leg of the tour on March 18 in Newark, NJ and travel to Florida for performances on March 23 in Vero Beach, March 26 in West Palm Beach, and March 27 in Naples.
The tour sees Edgar's Overture for Violin and Orchestra featured alongside works by Beethoven, Mendelssohn, Mozart, and Wieniawski.
Photo: Zach Mahone