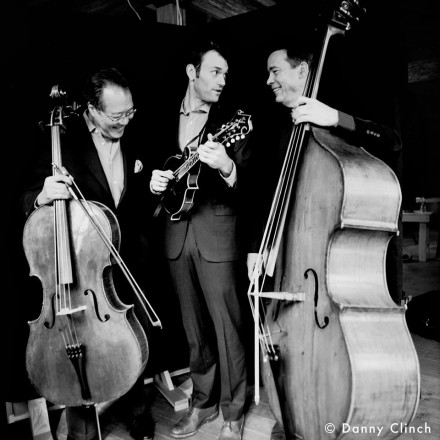 April 14, 2017
Bach Trios tour launches April 21 with Yo-Yo Ma and Chris Thile
---
Starting next week, Edgar Meyer joins Yo-Yo Ma and Chris Thile for a nationwide tour to highlight their new album for Nonesuch Records, Bach Trios.
The three artistic collaborators present a program of trio works reconceived for their unique instrumentation, including excerpts from The Art of Fugue as well as keyboard pieces and sonatas originally conceived for organ and viola da gamba.
The tour begins at Boston Symphony Hall (presented as part of Celebrity Series of Boston) on April 21, followed by the University Musical Society in Ann Arbor on April 22. The Chicago Symphony Orchestra hosts the trio on April 24, followed by the Nashville Symphony Orchestra in its home of the Schermerhorn Symphony Center on April 26 and Kansas City's Kauffman Center for the Performing Arts on April 27.
In California, Edgar, Yo-Yo, and Chris first land at Bing Auditorium as part of Stanford Live on April 29, followed by Berkeley's Hearst Greek Theatre on April 30 and the Granada Theatre at the University of California Santa Barbara on May 2. They end at the Los Angeles Philharmonic's home of Walt Disney Concert Hall on May 3.
Click here to add Bach Trios to your collection.
To celebrate the launch of the tour, Bach Trios will also be released on a two-LP vinyl set on April 21.