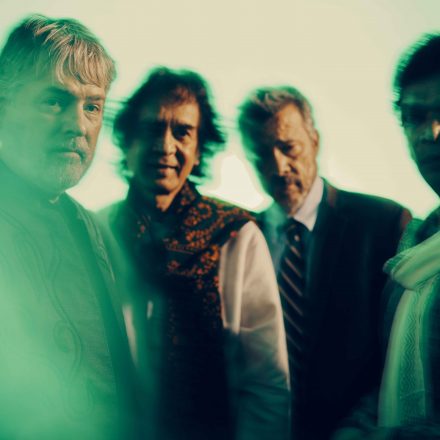 March 3, 2023
New Album "As We Speak" Béla Fleck, Zakir Hussain, Edgar Meyer, Rakesh Chaurasia
---
"When we are performing on stage, in composing mode or creating mode, we are basically having a conversation," says renowned tabla player, Zakir Hussain, of his bandmates, banjo legend Béla Fleck, the great double bassist Edgar Meyer, and bansuri player Rakesh Chaurasia. "So the music emerges as we speak."  
The quartet's latest album As We Speak, out May 12 (Thirty Tigers), not only showcases the group's breathtaking abilities as instrumentalists, but underscores the wide range of influences at their command. Across a dozen songs, the quartet glides easily between the cerebral complexity of Indian rhythm and the gut-level groove of a funky bass line, sounding equally at home with the rigors of raga.
Hear the first piece "Owl's Misfortune," written by Fleck. "Owl's Misfortune" was written intentionally to echo the different worlds we all come from," says Béla. "I imagined creating a world where classical language could live alongside Indian musical rhythmic ideas—and since I wrote it, bluegrass lives there too. Parents of young kids will recognize the top secret title reference." Pre-order / pre-save the album here.  
The quartet will be touring the US in April and May, including April 19 at Schermerhorn Symphony Center in Nashville and May 4 at The Town Hall in New York City.  Tickets are on sale now, with a November US tour to follow.